Không đơn thuần là phần mềm áp dụng hiệu ứng đặc sắc cho webcam để chụp ảnh, quay phim kiểu Hàn Quốc hay làm buổi chat thú vị hơn, Cyberlink YouCam còn được trang bị một số tính năng hữu ích khác như quay phim desktop, vẽ lên màn hình webcam, tạo và chia sẻ file thuyết trình PowerPoint, theo dõi kẻ trộm.
Các avatar có khả năng tương tác theo cử động của người dùng, giống trong bộ phim Avatar nổi tiếng. Cụ thể hơn, khi bạn nháy mắt, nhướn mày, há miệng thì các nhân vật cũng sẽ làm theo những động tác đó….
Giao diện vẫn tương tự Cyberlink YouCam 4 song
Cyberlink YouCam 5
nay có thêm tính năng rất hấp dẫn: Dùng khuôn mặt để đăng nhập Windows và một số trang web phổ dụng (Facebook, Google, Yahoo!, YouTube, Amazon, eBay, Flickr, Twitter, Blogger, AOL, DirectorZone, MoovieLive) trong Internet Explorer.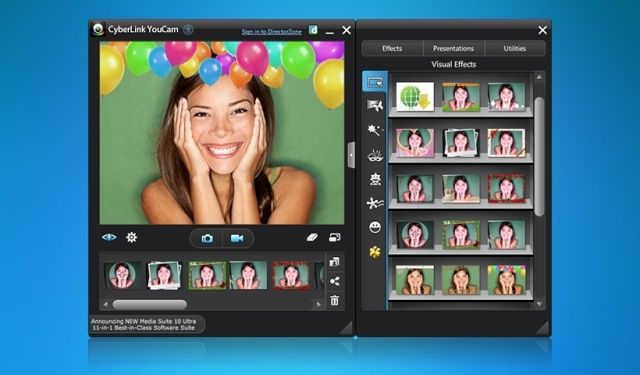 Cấu hình yêu cầu tối thiểu của YouCam 5
 OS: Windows 7 / Vista / XP (with DirectX 9 or above).
 Memory: 512 MB (1 GB recommended).
 CPU: Intel Pentium D 3.0 GHz. / AMD Athlon 64 3200+ or above.
 HDD Space: 1 GB required.
 VGA Card: Intel 945 (Independent graphics card recommended).
 Device: Webcam (built-in or external USB).
 Other Software:
    Instant messaging software with video communication functions, such as Windows Live Messenger, Skype, Yahoo Messenger, AOL Instant Messenger.
    Windows Internet Explorer 7 or above to use the Face Login sign in to web sites feature.
Link download: 
 https://mega.co.nz/#!KZggyYjL        
Decyption key: PerQ8UY0uD15y7D4sBopOFwZMQM5lbhxHC3bv50VUUI
Để tránh lỗi khi cài đặt, tắt yahoo khỏi taskbar. Và để tránh cài được Youcam, mà hỏng mất yahoo, thì  cài youcam vào ổ đĩa khác với ổ cài Yahoo!
Last edited by Admin on Mon Nov 07, 2016 4:02 pm; edited 21 times in total